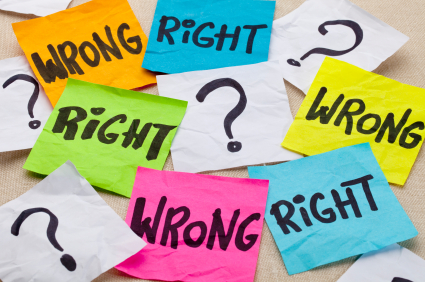 Finally, brothers, whatever is true, whatever is noble, whatever is right, whatever is pure, whatever is lovely, whatever is admirable- if anything is excellent or praiseworthy- think about such things. (Philippians 4:8 NIV)
Turkey
Happy Thanksgiving! Instead of turkey- Ferguson, Mo is topic on many minds. A dollar for every opinion could pay off national debt. A Grand Jury sifted through information to identify truth. Based on truth- not media frenzy, not political pull, and definitely not race, officer in question will not be indicted. Drugs, violence, and theft may not justify death, yet chance he took. Right vs. wrong seemed to be neglected.
Right Vs. Wrong
Laws are enacted for our safety. God's laws hold us accountable, discerning right vs. wrong. When do we learn right vs. wrong? Instilled from early stages of life, a first word learned is- no. We learn what we can do and what not to do. Then as scripture is learned, we learn what is acceptable and what is not. Honestly, I think life will be a constant series of learning right vs. wrong. Once The Holy Spirit lives within, we learn to respond to conviction. We'll have a stronger sense of right vs. wrong. More response to correction, more mature we become.
Message
What is happening in Missouri, is not any different than message permeating our society. Wrong will become right, and right will be wrong. From top leaders in our country and state, focus avoids: 1)drugs alter minds 2) stealing breaks law or 3)violence is wrong. Seems like ploys were set in attempt to divide country further. Taking attention off other fires of deception, like firing another experienced military leader.
Evaluate
Do we need to pay attention? Yes. Start with ourselves, evaluate how well we listen to The Holy Spirit. Do we accept correction, making necessary changes? By concentrating on truth, whatever is noble, whatever is right, pure, lovely, admirable, excellent, or praiseworthy, we remove negative thoughts. Paving way to exercise plan for perfect unity. Can this be done? Yes, it can!
Be encouraged!